Hi, all!
I've been overweight for as long as I can remember, childhood included. In 2016, my weight skyrocketed out of control, and by 2018, I reached my highest recorded weight: 331 pounds. Given that I'm a 5'0" female with no muscle to speak of, this was insane.
One day, I decided to try giving weight loss a go. This was in September of 2018. At this point, my weight had already gone down a bit to 322 pounds (without trying). I started counting my calories, going on short walks, and one year later, I had lost over 90 pounds.
Then 2020 happened. I fell behind. Started gaining all that weight back, reached 300 pounds again. Throughout 2020 - early 2022, I would sometimes try to lose weight again, but it never lasted. But in April of 2022, I rejoined Darebee (having only used it very briefly in 2019), and things have been going better for me. I'm no longer counting my calories, but I am exercising when I can, trying to eat less junk food, wanting to be better and healthier. I'm more active in my day to day life, no longer living with an abusive person, and I am improving slowly as time goes on. I no longer feel like the future is hopeless, but I also know my journey is going to take a lot. It won't be easy.
My original Darebee thread from April of 2022 can be found
here
. Exercising and eating healthier has played a much bigger impact on my mood and emotion regulation than I could have ever imagined.
I must remember this
, and remember to exercise and eat right,
especially
when I'm feeling down.
As of writing this post (9/23/22), I currently weigh 269 pounds. 260 is an important number for me -- for some reason, back in the day, that was the number that made me go "Oh crap, my weight is out of control." It was the weight that made me feel truly fat. And when I got under 260 pounds back in 2019, it made me quite happy. But when I regained that weight in 2020, it just devastated me. Before then, I'd still clung on to some hope that I could change things around, but once I passed 260 I just completely gave up on everything and felt horrible about my life.
One of my biggest challenges in terms of exercise is that I have ankylosing spondylitis. I found this out only a couple of months ago. It makes shoulder exercises extremely difficult, and I am quite stiff sometimes. So for shoulder exercises, I either have to take extra breaks or cheat. Hoping to start physical therapy for this soon, hope that helps me out. Another challenge I have is dealing with an undiagnosed illness which causes nausea and throwing up. It is mostly managed by a medication I take, but sometimes it still knocks me down and makes life difficult.
I believe I have food addiction, and that food addiction is real. I only recently came to terms with this, as I never thought that I ate food as a coping mechanism. But I wondered about it, and I realized that yeah, I do tend to reach for food when I'm not feeling well. Pop is my biggest enemy - once I start drinking it, I never drink water, and the pop dehydrates me and makes me want to eat far more food than I need. It's very, very difficult to let go of pop.
I hope to have a great time with you all. To enjoy exercising together. Let's get this bread.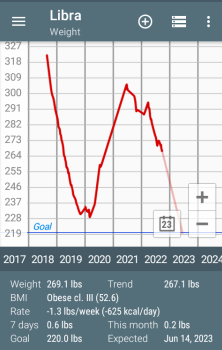 Last edited: